Give Your Dog A Vacation
Dog boarding in Aurora Ohio
Aurora Kennel has been caring for your dogs since its establishment in 1993. Owned and supervised by Aurora Animal Care Center Inc, we provide unprecedented care and support for your dog while you are away.
Aurora Kennel has 38 indoor runs, where each dog has their own space, a bed, a blanket (if permitted), food, and water. We have different sized runs (S, M, L, XL) and can accommodate extra large dogs, as well as multiple dogs from the same household who wish to stay together. We also have six private suites that are secluded from the rest of the kennels for more peace and quiet. These suites automatically include daily play time as well.
Our building is fully heated and air conditioned for your dog's comfort. To maintain their normal circadian rhythms, we have skylights to allow natural light in as well as adjustable lighting to create a calming effect. This allows your dog to feel more comfortable while staying with us. We adjust their time outside according to the weather so they are as happy as possible.
Each indoor area has it's own bed and dishes that are disinfected daily. We supply comfy bedding for dogs who do not chew them, or you may bring your own. We also have an indoor playroom when the weather outside is uncomfortable.
---
Admission and Release Times
Dogs must be picked up Monday - Sunday, from 8:00am - 10:00am and from 5:30 pm - 7:30pm. We are not available for drop off or pick up on holidays.
---
Dog Boarding Requirements
Rabies: Current in the last year for puppies and the past three years for adults
DHLPP: Current in the last year
Bordetella: Current in the last year
Canine Influenza (H3N2 & H3N8): Encouraged but not required
Fecal: Must have a negative stool sample within the past six months
New dogs must have been in your possession for at least 3 weeks and have been examined by a veterinarian in order to board.
We recommend your dog have annual heartworm testing, heartworm preventative, and flea/tick preventative.
Note: If fleas are found on your dog, treatment WILL be applied and additional charges will apply.
---
Playtime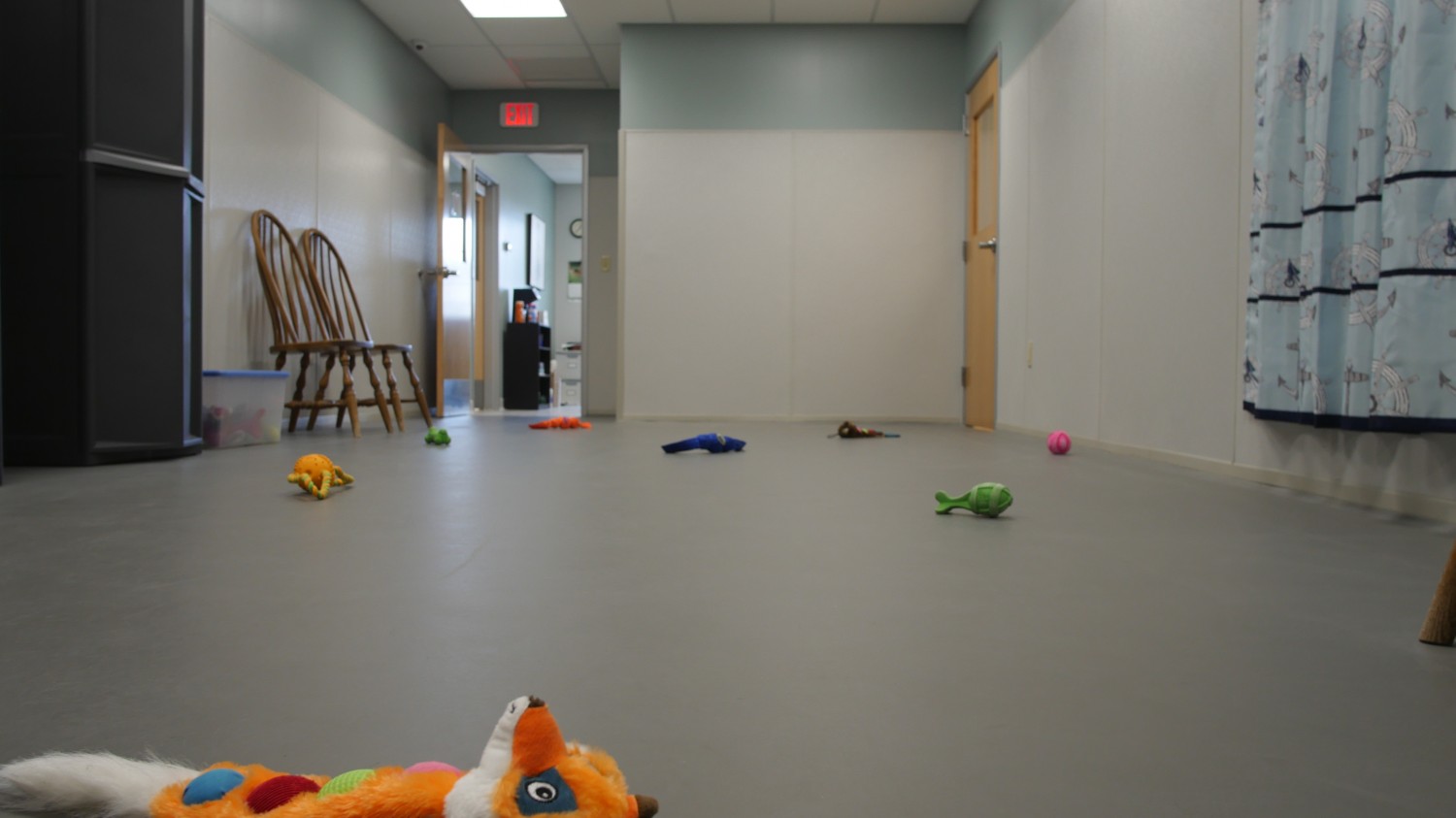 Aurora Kennel offers playtime for your dogs in our fully enclosed outdoor play area and our indoor play room. Our indoor playroom has a fully rubberized floor for non-slip playing.
Playtime consists of 20 minutes of one on one time with your dog and one of our assistants. Only dogs who live together may play together.
We supply a variety of toys, including balls, frisbees, tug toys and lots of extra loving. In the event of inclement weather, playtime is moved indoors.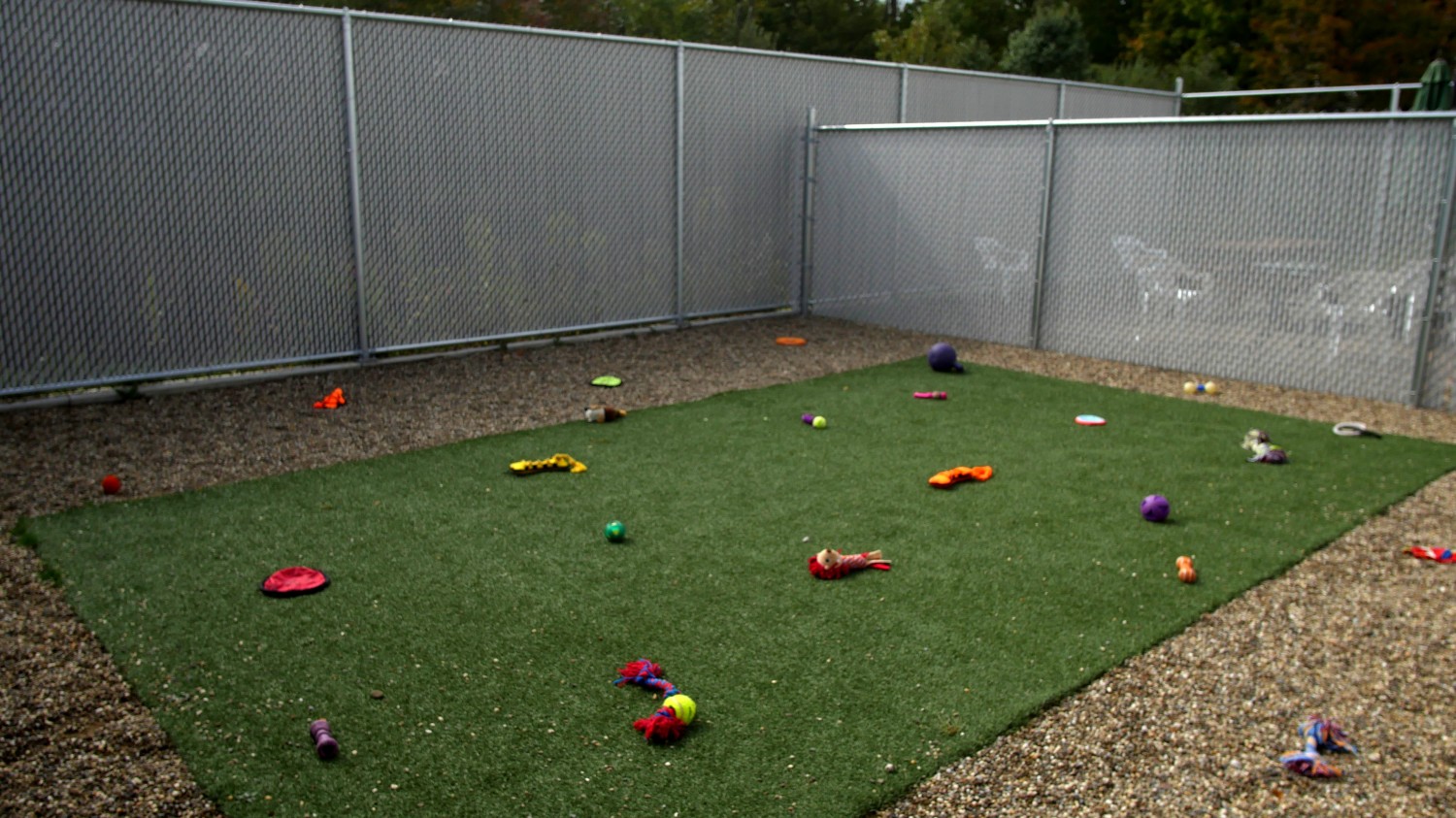 You can schedule playtime as often as you'd like: once a day, twice a week, or whatever fits your dog's needs.
---
Dog Food
We use Hills Science Diet Sensitive Skin & Stomach; food change issues are minimal and we have had great success with it. If your dog needs to eat a certain food, feel free to bring it with appropriate instructions.
---

Beds / Bedding
Our mainstay is a plastic platform bed which keeps your dog off the ground and allows air to circulate underneath for temperature control.
We supply clean bedding such as like blankets and cuddle mats. Please let a staff member know if your dog is a chewer as it can result in the need for medical treatment if any bedding is ingested.
We reserve the right to charge you for excessive damage to our beds.
---
Medications for Your Dog
We will administer any required medications. Most pills and liquid medications will be at no additional charge, but a charge will apply for difficult dogs, ear/eye treatments, or injections.
Diabetic management is an additional fee but we cannot take diabetic dogs who are not good eaters. If we cannot get your diabetic dog to eat we will contact you and determine a course of action.
You or someone you trust must be reachable if your dog is a diabetic. All medications must have proper labeling with complete instructions.
---
What to Bring for Your Dog
Emergency phone number
Medications, if needed
Prescription food if needed
Toy, if desired (note we do not permit rawhides, as they can become dangerous choking hazards)
Bedding is permitted as long as it is 100% machine washable in a standard washer. We are not responsible for destroyed bedding.
---
Cancellations
As a courtesy, we ask that you please inform us as soon as possible in the event that you do need to cancel your reservations.
During holidays, you may be required to leave a one night, non-refundable deposit.
---
In Case of an Emergency
If your dog becomes ill or injured we will make every attempt to notify you and or your emergency contact. Situations that require immediate attention will be handled at our discretion.
We will use Aurora Veterinary Clinic during normal hours and for after-hours emergencies. There is a Veterinarian and Registered Veterinary Technician on call through Aurora Veterinary Clinic on weekends.
At your first visit we will ask you to fill out a release form where you will express to us your wishes regarding emergency care of your dog.
---
Pricing
We will gladly quote you a price over the phone.
All prices include:
food
bedding (if eligible)
basic medication requirements
Pricing is per night, like a hotel, with check out time being 10:00 a.m. Any pick ups that take place after 10:00am will be charged an additional half night. There is a minimum charge for a one day stay.
We accept cash, personal checks (with a valid drivers license), all major credit cards, and tap pay at time of checkout.
---
Dog Grooming
We can bathe your dog while they are boarding here. An additional charge will apply.
Note: We do not offer full service dog grooming at any of our facilities.